Discover more from Midstory Magazine
A home for writing about love, loss, and friendship in the messy middle of life, from the editors of the HerStories Project.
Over 2,000 subscribers
It's Too Much: An Israeli Dispatch From a Midlife Mom
Guest writer Julie Zuckerman writes about her experience in central Israel during the past weeks and how you can help
Note from the author: What we have lived through during the last days is still incomprehensible in its scope. Each day we learn of new horrors and are fearful of which names we will hear next. We wander around in a state of shock. A tragedy on a national level that has hit each of us here in Israel on a personal level.
I am writing from the city of Modiin in central Israel, about 40 miles from the Gaza Strip, meaning: we are not all that close to any of the 22 small communities or towns that were overrun by Hamas terrorists on the morning of October 7. I did not experience first-hand the horrors that my fellow Israelis in those communities experienced, a great many of them massacred and unable to tell their own tales. As of this writing, the death toll is over 1,400 and still rising, with over 3,500 wounded and an estimated 200-250 held hostage in Gaza. To give you an idea of the scale, for a small country like Israel, population 9 million, the equivalent would be over 50,000 Americans dead. In one day.
What follows is my experience, or snippets of it, from the relative safety of central Israel, from the relative fortune that my immediate family is safe.
***
It's too much. For hours and hours on Shabbat morning, we hear incessant reverberations in the sky. We do not yet grasp the scope of what is happening in our country. We only hear the booms – some distant, some very close – of the Iron Dome, our anti-missile defense system, intercepting thousands and thousands of rockets launched from Gaza into Israel, from the immediate areas in the south to Tel Aviv and Jerusalem. Were it not for the Iron Dome, the death toll would likely be 20, 50, 100, 200 times greater.
It's too much. As Saturday unfolds, we hear reports of the unthinkable. A van of terrorists roaming the streets of Sderot, a town near the Gaza border. They have taken over the police station. They mow down people waiting at bus stops and walking their dogs. Anyone out in the streets. And then they begin breaking into homes and entering apartments, ripping people out of their safe rooms and shooting them on the spot or taking them captive. Our friend's daughter in Sderot spent over 30 hours alone in her safe room. They were in constant contact with her until Sunday morning, when missiles from Gaza made direct hits on several buildings and the power went out. After about seven hours she was able to contact them again, quickly packed her things and drove to safety in Jerusalem.
It's too much. Early Saturday morning, every soldier home for the holiday weekend is called back to their bases, though the roads are blocked, and it is difficult to get where they need to go. By midday Saturday, the reservists are called up. Nearly every young man and young woman in their 20s (and many in their 30s and 40s) who served in combat units, and many who served in support units.
My own son, 19, still in the advanced training phase of his mandatory army service, happened to be on a base near the Jordanian border, relatively far from the murderous assaults near Gaza. Over the course of the day, we were in touch with him and knew he was safe.
Our older son, 25, got the call up on Sunday morning to return to his unit, the Homefront Command, charged with protecting the civilian population. Every night for the last week and a half, he's been doing all-night shifts to ensure the infrastructure and networks and warning sirens are up and running. He, too, is safe. But we worry about the dozens of children of our friends, these brave kids whom we've known since they were born.
It's too much. My daughter, 22, cannot contact her friends from Kibbutz Kfar Aza, about a mile from the border. We hope on Saturday that they simply have no connection because they are hiding in their safe rooms. We hope on Sunday that the army will soon secure the kibbutz. We begin to lose hope when there is still no word by Sunday evening. I scan the news reports about this kibbutz and descend into dread and horror. Over 70 terrorists who rampaged and massacred, slaughtering entire families including babies and the elderly. Decapitations. Setting fire to homes to force those hiding to emerge. Grenades thrown into rooms so that the bodies will be unrecognizable and impossible to identify. Taking hostages. 90-year-old Holocaust survivors shot in the head.
"I don't think I have any tears left," my daughter says.
It's too much. Saturday night, we hear that Hersh Goldberg-Polin, the son of our friends, is missing. He'd been at the all-night music festival in the area that was attacked by Hamas from all sides, about 3,000 young people who fled for their lives, many mowed down or taken into captivity. On Tuesday, we read that volunteer workers have found 260 bodies from the music festival, and I think this is going to be the day that we'll hear they've found his body. Instead, in the middle of the day, I receive a message: Hersh was badly wounded, his arm blown off, but managed to tourniquet his arm and an eye-witness said he was taken away in a Hamas jeep as a captive. His parents are interviewed on CNN, ABC, Fox News, a massive campaign to exert pressure and get government officials involved.
"We are now every parents' nightmare," my friend says, in interview after interview.
Midstory Magazine is a reader-supported magazine for and by midlife women. To receive new posts and support our work of publishing female voices, consider becoming a free or paid subscriber.
Now, late last night, day 10: my daughter learns that her friend and his twin brother are also among the hostages. It's too much.
It's too much. In the space of a few hours on Monday, we begin to hear the names of the dead, each hour it seems we hear of another family affected from our community.
The sister of my son's classmate, a star swimmer and officer whose bravery saved the lives of the soldiers under her command. The son of my daughter's teacher. The grandfather of my son's classmate. The nephew of another teacher. The nephew of someone in my book club. The son of my husband's biking friend. The brother of someone in our synagogue. As of this writing, only a small fraction of the dead have been identified. We wait in dread to hear the next name, and the next.
It's too much. Every day, dozens of WhatsApp messages go out about how to help. Lists of supplies needed for our soldiers, for the families from the south who have lost everything. In the mornings, my daughters volunteer at clothes sorting stations.
I'm in the supermarket when I see a request for sandwiches; in an hour, someone in my neighborhood is packing her car to the brim and bringing sandwiches to the soldiers, with very specific instructions. Egg, tuna or cheese, but no mayo, no spreadable cheese. I buy as much bread and eggs as I can, and my daughter and I whip up 30 sandwiches. The next day, repeat. But there is very little bread left and my daughter buys the last three loaves. Many, many items in the supermarkets are out of stock, and still haven't come back, a week and a half later: crackers, tofu, instant coffee, tomato sauce, a great deal of produce. For about a week there was no chicken or toilet paper, though both of these items have now come back. It's like the beginning of Covid, but so much worse.
It's too much. School is cancelled for the entire week first week. Now, into week two, there is Zoom school for a few hours a day, but half the time the kids do not receive the right links, so perhaps they have one or two classes and that's it. On Sunday, a meeting on Zoom for my small startup in which our CEO gives us his blessing to take whatever time we need to be with our families, to not be productive. Nearly all of us take him up on it.
Over the course of the week, I attend a few meetings on Zoom but get nothing else done. We receive countless messages from friends and family abroad and I cut and paste my responses, trying to personalize each one a bit. Between volunteering, answering all the people who have reached out, and checking in with our other friends in Israel about their safety and the safety of their kids, there was no time to do anything else in week one. Not to mention waking up half a dozen times each night. Now, into week two, I'm trying to ramp back up into work.
It's too much. Day 10. Collectively as a family, in the last week, we've been to two funerals, paid six condolence calls, heard countless stories of bravery – people of all ages who rushed to the area to help evacuate families hiding from the Hamas terrorists and ended up paying with their lives.
We've donated thousands of shekels to the families and communities of the south, made dozens, maybe hundreds of sandwiches and care packages for the soldiers, food for those sitting shiva. My husband, who hasn't driven in a car on the Sabbath in over 30 years, is now volunteering for community patrols, including on the Sabbath. My younger daughter and her friends are babysitting for free. We are not alone. Every time a call goes out for help – a nursery from the area that needs to get its plants to safety, families who have lost everything and need housing and food and toys and musical instruments, students from the south in need of tutoring – there is a 300% response. These volunteering activities are the only thing keeping us going right now.
The author, making lasagnas today to deliver to mourning or displaced families
It's too much. This week, the entirety of Israeli society is focused on comforting the mourners, helping the families who have lost everything, demanding the return of the captives, and praying for the safety of our soldiers.
But when the dust settles, we will have to deal with the emotional toll. A country in which large numbers of citizens, including those of us who didn't experience the horrors first-hand, will suffer from PTSD from the events of the last week and a half. Even if every mental health resource in the world is thrown our way, it is hard to understand how we will move forward from these traumas. I read an article about fostering resilience during war, by a writer I know, a mother whose 13-year-old son was killed in a terrorist attack 22 years ago. She counsels five things: 1) control the chaos of the news and images to which you expose yourself, 2) spend time with your community, 3) engage in creative activities, 4) choose things to make you feel safe, and 5) take something filled with pain and transform it into something positive and life-affirming.
It's too much. But despite the chaos and the heartbreak, I am choosing to hope.
A few concrete ways to help, no matter where you are: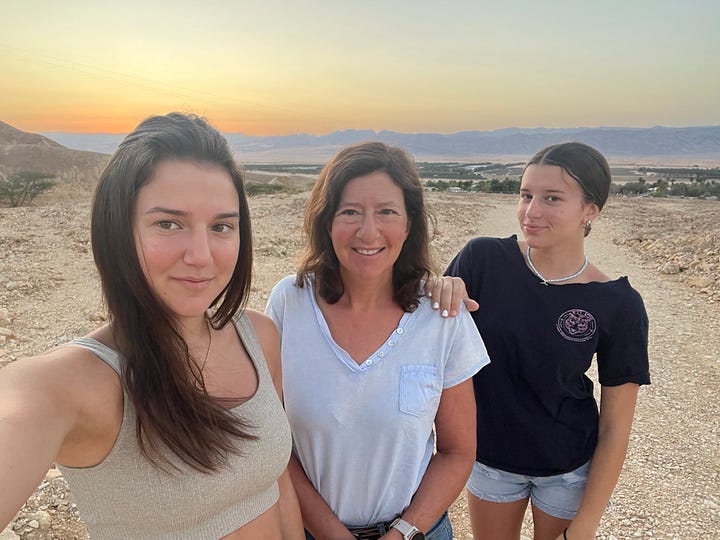 ---
Julie Zuckerman's debut novel-in-stories, The Book of Jeremiah, was published in May 2019 by Press 53. Her fiction and non-fiction have appeared in CRAFT, Atlas & Alice, Crab Orchard Review, Tikkun, The Coil, Salt Hill, The SFWP Quarterly, and Sixfold, among others. She is the founder and host of the monthly Literary Modiin author series. A native of Connecticut, she now lives in Israel with her husband and four children. You can find her at www.juliezuckerman.com