From the editors of the HerStories Project
We believe the messy middle of life should not be lonely.
At Midstory, we feature weekly personal essays and columns from midlife women about relationships at this stage of life.
Midstory Magazine is an intimate space for readers and writers at midlife to come together and feel less alone.
There are two formal dictionary definitions for "Midstory," both of which we love. The first definition is "the middle part of a story, neither the beginning nor the end." That's where Stephanie and Jessica are; we're in the midstory of our lives, and all the hundreds of women we've worked with and published over the years are there too. We're not at the start of our journeys, but neither are we at the ends. (The second definition is "the layer of vegetation in a forest that consists of those trees whose height is in between the heights of the smallest and tallest trees." We do like this one too. At midlife, we're surrounded by older and bigger trees and younger and smaller trees.")
Why Subscribe?
Become a subscriber to support our work of showcasing the stories of women at midlife. We pay our writers, and we hope to pay more in the coming months.
Keep our publication ad-free and support our mission of publishing women's voices at a time when they most need to be heard.
All subscribers will receive:
Weekly personal essays

Discussion threads

Occasional posts from us

Interviews with midlife authors
How Can I Write for Midstory Magazine?
We are now accepting personal essay submissions for Midstory Magazine about love, loss, and friendship at midlife. These stories could incorporate coupling and uncoupling, keeping and ending friendships, and grieving the loss of relationships or loved ones during this messy middle of life. We are looking for a strong, clear writing voice and raw, honest storytelling, in keeping with our mission to elevate the voices of midlife women.
We are also accepting submissions for our "Unsent Letters" column. Do you have an unsent letter — to a first love, to a long lost relative, to an unhelpful  colleague, to a stranger who has wronged you —somewhere in your drafts folder or in an old notebook? Submit a letter (anonymous, if you choose) to us. 
We have a special monthly call for submissions for paid subscribers.
For more submission details and to submit your writing, please
click here
.
Who are we?
Jessica Smock and Stephanie Sprenger are the co-founders and co-editors of the HerStories Project, a publishing and writing community for midlife women.
We met online as "blogging friends" and then founded the HerStories Project in 2013. During the next ten years, we've published five essay collections, led dozens of writing groups, and have taught writing to hundreds of female writers over the past several years. It's been our joy to work with midlife writers just like you. Our lives of juggling family, caregiving, and jobs and writing are much like yours. We know what it's like, as midlife women, to want to carve out space in our lives for just ourselves.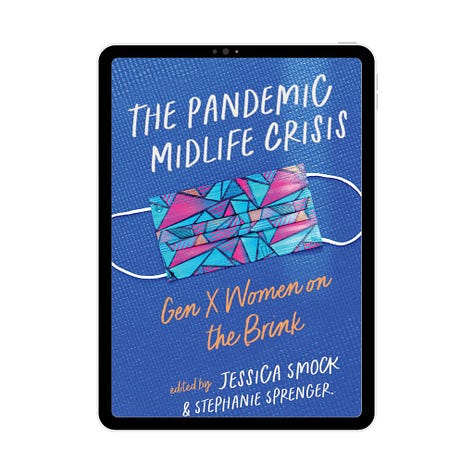 Learn more about our books.
Be Featured
Do you have a book or a piece of writing that you would like us to recommend to our readers? Are you interested in being interviewed by us or in writing a guest post about a topic that might interest our readers? Are you interested in being a sponsor for our newsletter? Please email us at jessandsteph@theherstoriesproject.com
Midstory Magazine is a reader-supported publication. To receive new posts and support our work of publishing midlife women's writing, consider becoming a free or paid subscriber.
Subscribe to Midstory Magazine
People
Steph Sprenger
Gen X-er, narrator, metaphorical juggler, single mother, writer, podcaster, producer, daydreamer, possessor of useless insights.